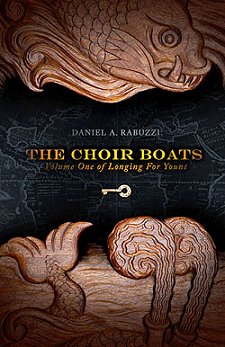 Hello lovely readers
:)
It's summer, and with summer always comes those days where you have nothing much to do, and so you turn to your most loyal of friends- books. Author
Daniel A. Rabuzzi
has introduced us to his debut fantasy novel,
The Choir Boats
and we thought we'd share so you could take a look at it too and perhaps add it to your summer reading lists.
London, 1812 | Yount, Year of the Owl
What would you give to make good on the sins of your past? For merchant Barnabas McDoon, the answer is: everything.
When emissaries from a world called Yount offer Barnabas a chance to redeem himself, he accepts their price—to voyage to Yount with the key that only he can use to unlock the door to their prison. But bleak forces seek to stop him: Yount's jailer, a once-human wizard who craves his own salvation, kidnaps Barnabas's nephew. A fallen angel—a monstrous owl with eyes of fire—will unleash Hell if Yount is freed. And, meanwhile, Barnabas's niece, Sally, and a mysterious pauper named Maggie seek with dream-songs to wake the sleeping goddess who may be the only hope for Yount and Earth alike.
And we just adore the cover :)
Here's the deal- during the month of July, Wowio.com is giving out the e-book version of The Choir Boats for free for download! So anyone could read it! Just make sure your device is PDF compatible and you and read it anywhere, just like a real book. You can download it
HERE
and no worries, it's safe; no viruses attached or anything. We both downloaded it ourselves. It is only available for free through the month of July, so hurry!
The book looks quite promising and we are currently reading the e-book. Keep checking back for a review on it! And if you've read it already, or when you finish, post your comments here! We'd love to know what you think :) Enjoy!